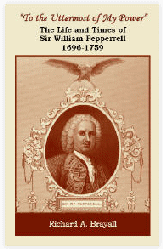 His credentials were truly extraordinary when he met King George II in London in 1749. Sir William Pepperrell of Kittery, Maine, was the simple son of a simple fisherman who turned his father's modest business into one of the great commercial empires in British North America.
He served on the Massachusetts Governor's Council for thirty-two years, the last eighteen as chairman. He was a judge with no legal training. And, in 1745, in his crowning achievement, this volunteer militia colonel trained and led an army-a New England army-that conquered the strongest fortress in North America.
He was the first colonial American to become a baronet. He died a lieutenant general in the British army, yet more than any other man, Pepperrell prepared the colonial military for the revolution that would come after his death, and that would destroy his heirs and the remnants of his business empire. Using original sources and classical histories, To the Uttermost of My Power recreates the dramatic and full life of Sir William Pepperrell, and reminds us that greatness transcends all generations. The text is illustrated with photographs, and enhanced by an index to full names and places.