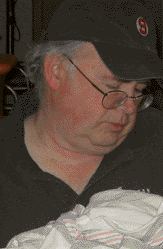 Richard A. Brayall started his career as a newspaper reporter and editor in Lewiston, Maine, before spending the next two decades in public relations for the original AT&T and Ericsson of Sweden.
Like Sir William, he was born and brought up in Kittery, Maine, and he too was a member the 1st Congregational Church. A graduate of Bates College in Maine and Simmons College in Boston, he lives in New Hampshire with his wife Danita, and close to his three grown sons and grand daughter.
Brayall's one granddaughter, Nora, was born the same day he got the contract for the Pepperrell book. He hopes to co-write a book with her soon.
A longtime fan of the Red Sox, Patriots and Celtics as well as politics, he ran for a seat on his local schoolboard three times, winning each contest handily -- mainly because he always was unopposed. He served on the board for ten yeaers, three of them as chairman. He also coached baseball for all three of his sons.
If you asked, he would tell you his three favorite books of all time are Northwest Passage, The Caine Mutiny, and The Lord of the Rings; in no special order.
His favorite president is Warren G. Harding -- favorite, not the best.
Brayall is currently writing his second, this time about the American Revolution. The book is a biography of John Glover, the man who rowed Washington across the Delaware. This book is to be published by Heritage Books in 2009.
Purchase "To the Uttermost of My Power"...